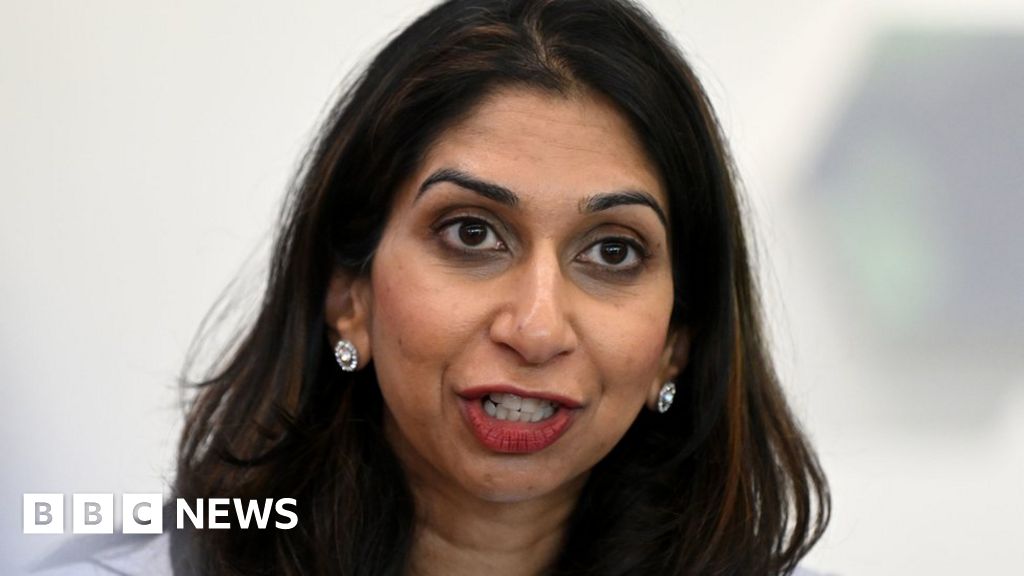 Written by Becky Morton
Political reporter
Former Interior Minister Suella Braverman said the Prime Minister's current plan in Rwanda would mean asylum seekers would not be transferred there before the next elections.
The Supreme Court ruled on Wednesday that the policy in Rwanda was illegal.
Hours later, Rishi Sunak announced plans for emergency legislation and a new treaty with Rwanda, so the first flights can depart in the spring.
But Ms Braverman said the new treaty would not resolve the "core issue" in the plan – that the UK's highest court decided there was a risk that Rwanda would return asylum seekers to the countries they fled, putting them at risk of harm.
In its ruling, the Supreme Court said there were "strong reasons" to believe that people deported to Rwanda could be returned to places where they may not be safe.
In her first detailed response to the ruling, Ms Braverman, who was sacked as Home Secretary on Monday, said that unless the Prime Minister went further than his current proposals, she could not see how the Government could deliver on its pledge before parliamentary seats ran out. time.
She added: "Attempting to operate flights to Rwanda under any new treaty would still require returning to the courts, a process that is likely to take at least another year."
"This process could lead to another defeat, for new reasons, or for reasons similar to what happened on Wednesday: Essentially, the judges cannot be sure that Rwanda will abide by the terms of any new treaty."
"This is why the plan outlined by the Prime Minister will not lead to flights to Rwanda before the elections if Plan B is just a modified version of the failed Plan A," she added.
General elections are expected next year and must be called by January 2025.
Ms Braverman said that to prevent further legal challenges, the Prime Minister's proposed legislation should ignore "the entirety" of human rights law and the European Convention on Human Rights, as well as other relevant international obligations, including the Refugee Convention.
To address the High Court's concerns, Ms Braverman said the UK must take practical steps to improve Rwanda's asylum system, for example by sending British monitors or independent reviewers of asylum decisions there.
She said the legislation should also make clear that those who arrive in the UK illegally will be detained until they are deported.
Ms Braverman added that the bill must be introduced by Parliament's Christmas recess and MPs must be called to sit and debate it during the recess.
In language more tame than her recent public interventions, she said there was "no reason" to criticize Supreme Court justices for their ruling.
Instead, she blamed "politicians who failed to introduce legislation ensuring the implementation of our partnership with Rwanda."
The Prime Minister says the new treaty will ensure that Rwanda does not return migrants to countries where they could face persecution or harm. He is also proposing legislation to confirm that Rwanda is a "safe" country – despite the Supreme Court's findings.
The Rwanda policy is central to Sunak's plan to prevent asylum seekers from crossing the Channel in small boats – one of his key pledges – because it is designed to deter people from making the risky journey.
Downing Street said the legislation would be released "in the coming weeks".
However, it is expected to face opposition in the House of Lords, and many also expect further legal challenges in the courts.
"Travel specialist. Typical social media scholar. Friend of animals everywhere. Freelance zombie ninja. Twitter buff."