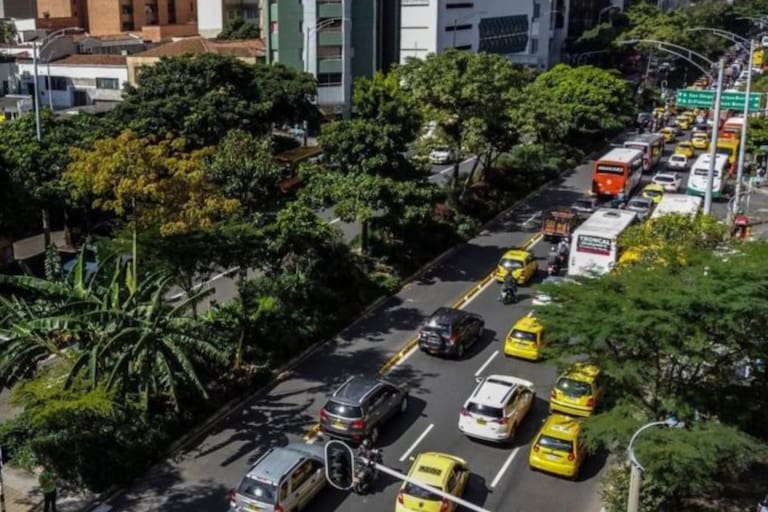 Moises Castro has been selling fruit at a stand on Avenida Oriental in Medellin for more than 30 years. He still remembers decades ago The local administration cut down the trees on the side of the street As part of the project to improve transportation. Even today, the avenue is still a common thoroughfare full of traffic and commerce.
But thanks to the reversal of earlier decisions regarding its flora, Large fruit trees, shrubs and flowers flourish around the arterial road.. Castro promises that both local air quality and temperatures have improved.
The temperature in this area is not only pleasant throughout the year but also cooler than other parts of the city where there is no vegetation. Here bike paths line the streets and pedestrians can relax on benches in the shade.
Sometimes Nicknamed "City of Eternal Spring".Medellin's mild climate has long helped attract tourists year-round, but growing urbanization has also exposed the metropolis to the so-called heat island effect, in which buildings and roads absorb and retain heat.
however, Its new green corridor has been instrumental in reversing this vulnerability. According to local government data they looked at, it helped reduce temperatures across the city by 2 degrees Celsius BBC Future Planet.
Medellin, Colombia's second-largest city after Bogotá, launched its "green corridors" program in 2016 amid concerns about air pollution and rising heat. Composed of more than 30 green runners, The system combines green avenues, vertical gardens, streams, parks and mountains.
in the beginning, The project involved planting around 120,000 saplings and 12,500 trees along roads and parks.. It proposes to grow 2.5 million more small plants and 880,000 trees across the city by 2021.
The idea was to connect the city's green spaces through tree-lined and shaded roads and streets. The initial investment to implement the project is US$16.3 million and according to the local government, annual maintenance costs are estimated to be around US$625,000 in 2022.
The project went global with its surprising results, chilling the city. In addition to reducing heat, Experts say it has helped improve air quality and brought wildlife back to the city.
We are experiencing an uncertain time with climate change due to heat waves, especially in cities. The urban heat island effect may cause temperatures to rise further., Medellin's approach with its green corridors offers a popular, low-cost solution that many other cities are trying to copy. Could it become a model for a future city that resists climate change?
Apart from concerns about urban heat, Medellin's Green Corridor Project was launched due to poor air quality This was largely due to the immense growth of private transport in the city.
Besides, Medellin is located in the Aburra Valley, a geological formation that can trap and preserve pollution within its mountains.It doesn't help improve air quality.
Although not the worst in South America, annual levels of particulate matter (PM2.5) in Medellin are three times the limits considered safe by the WHO, according to IQair, a Swiss company that measures air quality around the world. An average of 5 micrograms per cubic meter (µg/m3).
Pollution in Colombia's second largest city is higher than in the capital Bogotá or Sao Paulo, the most populous city in South America. However, these pollution levels are much lower than other cities with major pollution problems: in 2022, New Delhi, India, was 18 times higher than the WHO's annual limit.
However, during drought, The city faces its worst climate due to dwindling rainfallIt generally helps to remove contamination, Medellin can be reached 55 µg/m3 of PM2.5, approx Common anxiety states to the authorities.
The links between PM2.5 (small airborne particles) and respiratory diseases are well established. When pollution exceeds 38 µg/m3, the valley's early warning system generates an alarm that can lead to restrictions on car use. Further People, especially the most vulnerable, are advised to stay at home.
"In 2015 and 2016 we reached the peak of air pollution," says Paula Palacio, Medellin's secretary of local infrastructure at the time. "This is a very important moment in environmental matters."
Palacio recalled that there was growing public pressure for more formal measures to be taken against pollution. "People are very affected by restrictions"Collaboration.
A 2020 study from the University of Antioquia in Medellin concluded 1,971 premature deaths were attributed to pollution 2016 in Apurra Valley region. The study warned that pollution deaths could increase significantly by 2030 if vehicle emissions are not curbed.
Maurício Correa, researcher in environmental engineering at the University of Antioquia, explains. Trees used in corridors act as "green barriers". Against these dangerous particles, it absorbs a significant amount of pollution. The expert points out that the Medellin project used species known for their efficiency in absorbing pollutants, such as the mango (Mangifera indica).
A 2021 study co-authored by Correa found that the fruit plant, among six species found in Medellin, absorbs PM2.5 and survives in polluted areas, thanks to its "biochemical and biological mechanisms." "It's very difficult. "Other plants don't have the same ability to survive in a polluted area." Korea says.
No study or comprehensive study has yet examined the extent to which green corridor projects have reduced air pollution. However, Correa notes that his team is in the early stages of studying this impact, and that the results of the study will be published in early 2024.
Apart from 30 green corridors, around 124 parks connected through gardens are also part of the scheme. This increase in greenery across the city has a positive climate impact.
According to a 2019 study by the Engineering University of Antioquia, these two parks, Nutibara and Volador mountains, were responsible for removing 40 tons of carbon dioxide (CO2) from the atmosphere per year.
Leon Dario sells french fries on Avenida Playa near Avenida Oriental. Having worked in the area for two decades, he says there is strong public support for the green corridor project.
In addition to trees, Dario believes that using electric vehicles is an effective measure to improve air quality. In recent years, The local government replaced diesel buses with electric units in the area.
According to Lina Rendon, Undersecretary of Renewable Resources for the local mayor's office, the support of Medellin's local population is critical to the success of the Green Corridor project.
One reason, according to him, is municipal participatory budgeting, a pool of money that allows local people to choose the initiatives they want to fund. In recent years, people have chosen many green initiatives for the city in this way..
The local government, which took office in 2019, has planted 9,332 new trees, according to its officials, and Medal's total green area is now four million square meters. Renton says the local community has also directly supported the upkeep of the project by volunteering to work as gardeners.
The Green Corridor Project also established a program to employ those coming to Medellin displaced by violence in Colombia, helping them find permanent jobs as gardeners. "Planters were socially vulnerable and this helped give them dignity"Palacio adds.
Sergio Orozco, Secretary of the Environment of Medellin from 2016 to 2019, says that the project's results pleasantly surprised him. "The temperature reduction, more than 3°C in some areas, was more than we expected," he says."We saw the return of animals that hadn't been seen here for years.".
Palacio explains that the local government measured the temperature in some places in the city center before and after the project, and found that some areas experienced an average temperature drop of 2 degrees Celsius after the corridor was implemented.
Besides, Local wildlife watch birds, lizards, frogs and bats now inhabit the corridor.According to local authorities, some of them have not been seen in the city for years. Many locals believe it helped control rats and other vermin.
In 2019, the city received the Ashden Award, which celebrates transformative climate solutions in the nature-based cooling category. "The city's response brings people together, planting plants to create a better environment for all"The judges said.
These achievements made the program popular around the world and the Colombian cities of Bogotá and Barranquilla are now adopting similar programs.
For example, Bogotá is planning to build a green corridor along one of its main routes. Recently, Sao Paulo, the largest city in South America, expanded its own version of green corridors.
One of the most ambitious measures to make Medellin a greener city is the local government's plans to close the central airport and turn it into a park, diverting its flights to other nearby airports. However, the plan has been blocked by a city council.
Discussions about How to make Medellin a greener city And climate resilience will continue in the coming years. For now, Medellin residents know they can enjoy shady spots and mild weather while carefully planning their next steps.
*By Matthias Govia de Andrade
"Introvert. Thinker. Problem solver. Evil beer specialist. Prone to fits of apathy. Social media expert. Award-winning food fanatic."