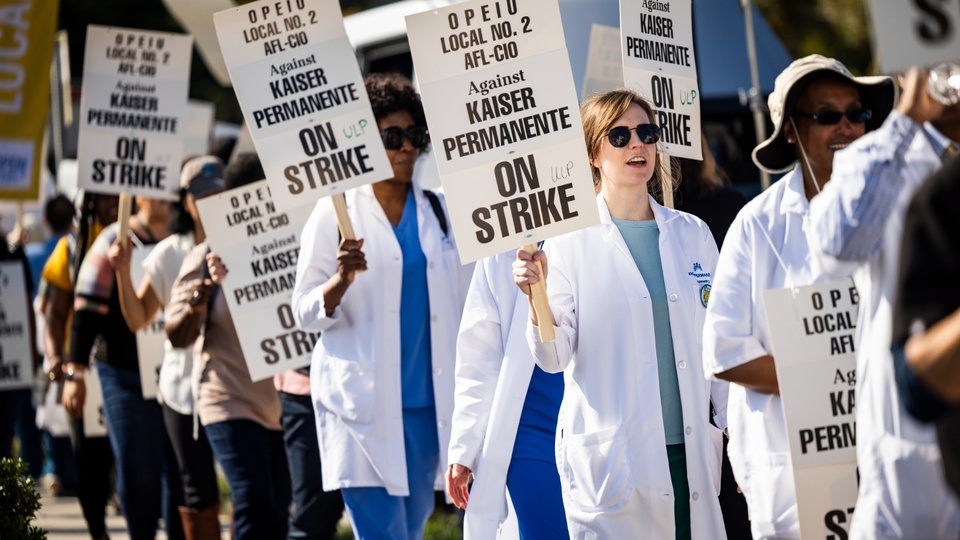 This Wednesday, the United States experienced the largest health care worker strike in its historyThey participate in it More than 75 thousand union employees From Kaiser Permanente, one of the nation's largest not-for-profit health care providers. The strike began at six in the morning It will last until next Saturday. The worst affected states are California, Colorado, Washington, Virginia, Oregon and Washington DC.
Healthcare workers demand a safe working environment, Post-pandemic, staffing shortages compromise patient care and pushing many workers to the limit. The striking workers are in eight unions that make up 40 percent of the total workforce at Kaiser Permanente, which operates 39 hospitals and more than 700 medical offices.
The strikers were nursing staff, dietitians, receptionists, optometrists and pharmacists who went on strike after their contracts expired without reaching an improvement agreement with the company. In addition to wage increases at all levels, the union is asking for protection against outsourcing and subcontracting of workers.
"Workers are under great pressure"
Kaiser Permanente Alliance of Trade UnionsRepresenting local unions, last month it pledged to be the "largest health care worker strike in U.S. history" and He threatened further strikes in November if "Kaiser continues to engage in unfair labor practices.". On the contrary Kaiser Permanente He pledged in the statement that he was ready to "continue negotiations with the coalition" until a "fair and equitable agreement" was reached.
"We are disappointed that some unions have called on workers to participate in labor strikes.", the company announced in a statement on its website. The company said it had contingency plans in place, but warned customers there could be longer wait times than usual. "During the strike our medical centers will remain open and our doctors, directors and trained and experienced staff will be available," they added.
Kaiser Permanente operates differently than the fee-for-service model of most health care providers in the United States, in which a physician or health care provider receives a fee for each service rendered. Members Kaiser Permanente, instead, pay the company to access the wide range of healthcare services of this healthcare consortium. system It covers 13 million people in eight states under its health scheme.
According to an Oct. 1 update from the SEIU-UHW union, Kaiser Permanente offered wage increases based on location, with a maximum of four percent for each of the four years of the new contract. The federation rejected it saying it was not relevant to the cost of living. They are seeking a general increase of 6.5 percent in the first two years of the contract and 5.75 percent in the next two years.
Renee Saldana, spokeswoman for SEIU-UHW, said "workers are under tremendous pressure." Speaking to CNN, Saldana said, "They're going through the worst global health crisis in a generation, and then they come out, they're worried about paying their rent, they're worried about losing their home, they're worried about their housing. Their cars."
Democratic Senator Bernie Sanders Kaiser Permanente expressed solidarity with healthcare workers. Sanders said "If Kaiser can afford to pay its CEO more than $15.4 million, it can afford to treat all of its employees with respect". For her part, Congresswoman Cory Bush revealed on her X account: "Today 75 thousand Kaiser permanent workers walked off their jobs, making it the largest health care strike in the history of the United States. I stand in solidarity with them in their struggle.".
Resistance wave
The unprecedented health strike comes at a time of growing labor activity across the United States, with tens of thousands of workers across many sectors joining walkouts to demand better wages and benefits. In the automotive industry, at present About 25,000 workers from General Motors, Ford, and Stellar lost their jobs. In the absence of an agreement to sign their collective agreement.
The entertainment industry also faced strikes over the summer after Hollywood's writers' and actors' unions went on strike simultaneously for the first time since the 1960s. Writers Guild of America leadership reached a tentative deal with Hollywood studios last month. But the actors' union strike continues.
It was already the year with the most strikes in the US since 2019That could escalate in the coming days if Las Vegas hotel workers choose to take action against casinos and auto workers intensify their strike. According to the US Bureau of Labor Statistics, 53,000 people were involved in a major strike in the healthcare industry in 2018.
"Introvert. Thinker. Problem solver. Evil beer specialist. Prone to fits of apathy. Social media expert. Award-winning food fanatic."