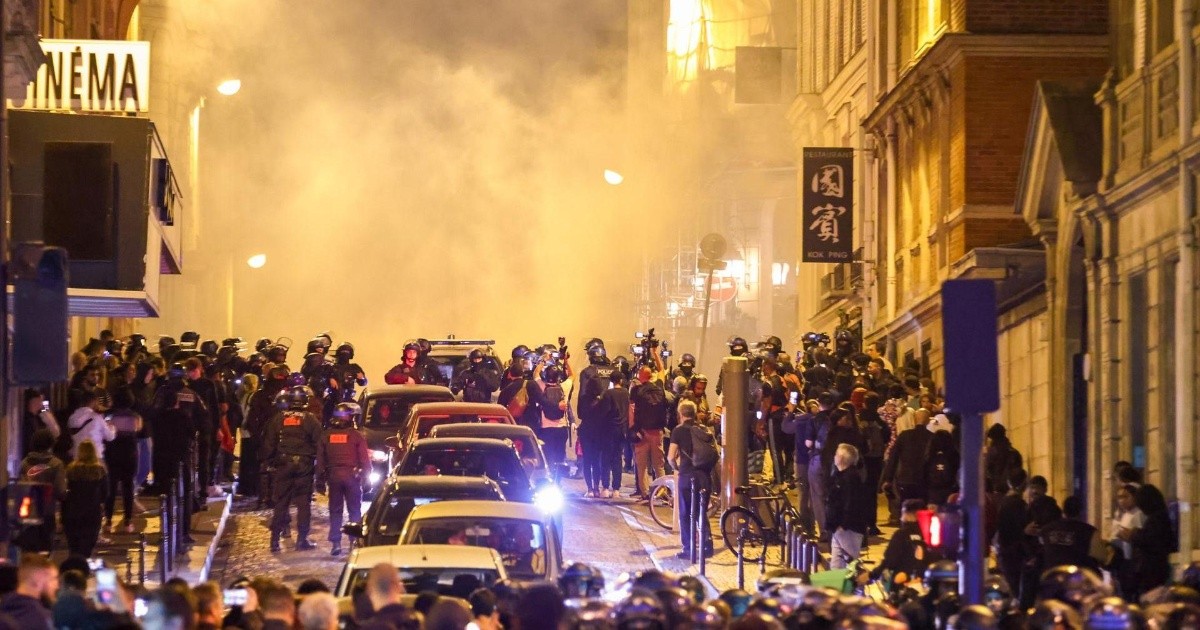 French police More than 1,300 people were arrested this Saturday A fourth day of protests and riots followed the "easy provocation" case in which a 17-year-old boy died in the last few hours. He was buried in strict privacy at the request of his familySo as not to escalate the tension further.
The Ministry of Home Affairs reported that there was violence It was "much less intense" than previous nights875 people were arrested on Thursday night, the highest number of arrests since the uprising began last Tuesday.
Demonstrations Following Nahel's crime began in the municipality of NanterreA 17-year-old boy was shot dead by a policeman at point-blank range during a traffic stop, and his funeral was held today, without cameras.
A crowd gathers before a funeral procession at a mosque this Saturday From the northwestern city of Paris, he later traveled to the Mont-Valerien cemetery for burial.
"May he rest in peace and may justice be served. I have come to support mom, she has no one but him", said an aide who wished to remain anonymous, according to French news agency AFP.
Death of Nahal from Algeria, his family. In France, sparking debate on police violence Thirteen people died in similar circumstances in 2022, and generated criticism of the security forces, seen as racist by large sections of the population.
The police's first version indicated that the teenager tried to hit the agents with her vehicle. But a widely circulated amateur video showed him shooting point-blank When starting your car during traffic control.
Justice decreed The 38-year-old police officer who opened fire is on trial for voluntary manslaughter He, according to his lawyer, asked for an "apology from the family" of Nahal.
Use of armored trucks and the deployment of 45,000 security forcesThe government decided to mobilize because of the risk of new incidents, failing to prevent the protests from spreading across the country.
The protests have also disrupted social life in France, with fears that it could affect the tourist season and the 2024 Paris Olympics, as well as the diplomatic agenda. He persuaded President Emmanuel Macron to postpone his visit to Germany.
Macron briefed his German counterpart, Frank-Walter Steinmeier, on "the situation in his country".and requested "to postpone his state visit to Germany" scheduled for Sunday night until Tuesday, according to a statement from the German presidency.
Germany, United Kingdom and NorwayAmong other European countries, their citizens in France have been urged to avoid riot areas and exercise caution.
Besides, The French government organized a new meeting of the crisis cell And Prime Minister Elizabeth Bourne asked ministers to stay in Paris for the weekend.
Meanwhile, Kylian Mbappe-led French football team said in a statement in an attempt to calm the situation. "The era of violence must end" and allow room for "peaceful and constructive ways of self-expression.".
"Since this tragic event, we have seen an expression of public anger, which we deeply understand, but which we cannot accept in form," the footballers wrote, according to Le Monde newspaper.
The UN also echoed the demands and called on French authorities to seriously address "deep-seated" problems of "racism and ethnic discrimination" among their security forces.
Nahal's mother, Maunia, France told 5 he doesn't blame the police as a wholeOnly the member who killed his son.
During the demonstrations, 1,350 vehicles were burnt or damaged, 234 buildings were burnt or damaged and 2,560 fires were recorded on public roads.According to official information.
Authorities imposed curfews in at least three locations in Paris and several cities across the country.
The southern cities of Marseille and Lyon and Grenoble in east-central France, There were many robberies last night. Often carried out by groups of masked individuals.
Traders were furious this morning and inspected the damage.
"On Monday I put everything up for sale, that's enough," announced the owner of a shop on a rubble-strewn pedestrian street in central Lyon.
"They came openly to break and steal things," said Youssef Bettahar, a shopkeeper at the Merlon shopping center in Marseille.
Source: Thelam.
"Introvert. Thinker. Problem solver. Evil beer specialist. Prone to fits of apathy. Social media expert. Award-winning food fanatic."