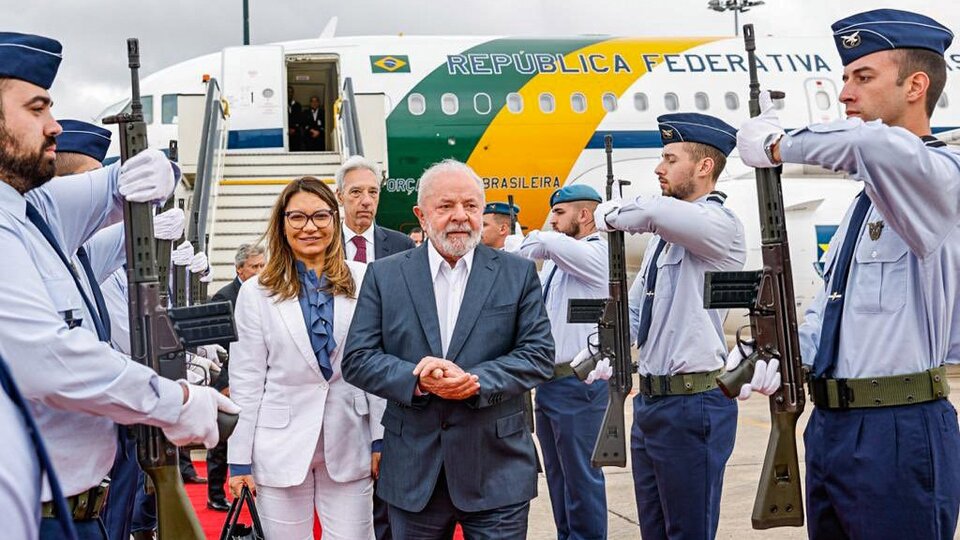 President of Brazil Luis Inacio Lula da Silva, He arrived in Portugal this Friday to begin a five-day tour The EU hopes to come closer after creating some of these Diplomatic friction over his stance on the war between Russia and Ukraine. It was Lula's first trip to Europe since his return to power earlier this year, after visiting five other countries, including the United States and China, aimed at restoring Brazil's presence on the international stage after his predecessor's isolation. Jair Bolsonaro.
Political and business agenda
Lula, who heads to Spain after visiting Portugal, promises to put his country back at the center of global geopolitics. "The visit is part of the reactivation of diplomatic relations with Brazil's key partners"After the United States, Argentina and Uruguay at the beginning of this government, just as it went to China ten days ago," the Brazilian president emphasized in a statement.
The 77-year-old former metal worker landed in Lisbon on Friday morning, but plans for his state visit did not begin until Saturday. Meeting with Portuguese President Marcelo Rebelo de Sousa and Socialist Prime Minister Antonio Costa.
In conjunction with the 13th Luso-Brazilian Summit, the first in seven years, a dozen bilateral agreements will be signed, particularly in the fields of energy, science, education and tourism. This last point is important because Brazilians are the largest foreign community in Portugal with more than 200 thousand people.
On Monday, after a meeting with businessmen in Porto, Lula will take part in the presentation of the Camos Award, the highest distinction in Portuguese-speaking literature, this time to the famous Brazilian singer and writer Chico Burke.
Before heading to Madrid on Tuesday, the president will address the Portuguese parliament during a session ahead of presidential commemorations. 49th Anniversary of Carnation Revolution, which ended 48 years of dictatorship and 13 years of colonial wars in Africa. Lula's presence in the Portuguese House of Democracy on April 25 was not without controversy.
While the left was supportive, the right-left drew harsh criticism for Lula's visit and the fact that the invitation came from the secretary when it is the responsibility of parliament to organize the solemn session. Because of this inconvenience, Lula will deliver a speech at a session organized for April 25, but outside the official commemoration.
Dispute over Ukraine
Lula's recent visit to ChinaWith a stopover in the United Arab Emirates, Marked by his comments on the conflict in Ukraine, a thorn issue that is resolved during his interview with the head of the Portuguese government. Lula caused controversy last Saturday while staying in Beijing US to stop "fostering war" in Ukraine And? EU to "start talking peace".
His statements were sharply criticized by Washington, accusing him of "echoing Russian and Chinese propaganda regardless of the facts." Lula also reiterated that responsibility for the war unleashed by the Russian invasion of Ukraine in February 2022 was shared between the two countries.
Last Monday, Lula welcomed Russian Foreign Minister Sergey Lavrov in Brasilia, who thanked him for Brazil's contribution to finding a solution to the conflict and for "a better understanding of the origins of this situation." However, Brazil's president changed his tune on Tuesday, condemning Russia's "violation of Ukraine's territorial integrity."
The European Union said on Friday it wanted to speak directly with Brazilian government officials to clarify that only Ukraine could decide the right moment for a ceasefire with Russia. "We will talk to our Brazilian friends and tell them this is not the time. It is time for Ukraine to say it is time," said a senior European Community official.
The EU's High Representative for Foreign Affairs, Josep Borrell, hopes to meet Brazil's President's Special Adviser on International Affairs, Celso Amorim, on April 25 in Bogotá, where he will travel to attend a meeting of foreign ministers. It was promoted by Colombian President Gustavo Pedro to block negotiations between Venezuela's government and the opposition.
Amorim, a former foreign minister during Lula's first term, recently traveled to Moscow where he met with Russian President Vladimir Putin and Foreign Minister Sergei Lavrov. "There is no magic solution, but the idea appears on the one hand that the cost of war, not only political but also human and economic, outweighs the benefits of peace." Amorim said after his trip to the Russian capital.
Next station, Spain
Lula's tour continues next Tuesday in Madrid, the president plans to attend a seminar that will bring together businessmen from Brazil and Spain. Further Spanish Prime Minister Pedro Sánchez will meet and welcome King Felipe VI on Wednesday.At Moncloa Palace.
In Lisbon and Madrid Lula will seek to secure progress in negotiations for a free trade agreement between Mercosur and the European Union.It has to be ratified by all countries' parliaments, which was discontinued in 2019. "For Brazil, both Portugal and Spain are natural doors to Europe," said Lula, who is not participating in this year's Ibero-American. Last month's summit in the Dominican Republic, to which he sent his foreign minister, Mauro Vieira, prioritized other forums such as Brazil's return to Selac and Unasur.
"Introvert. Thinker. Problem solver. Evil beer specialist. Prone to fits of apathy. Social media expert. Award-winning food fanatic."