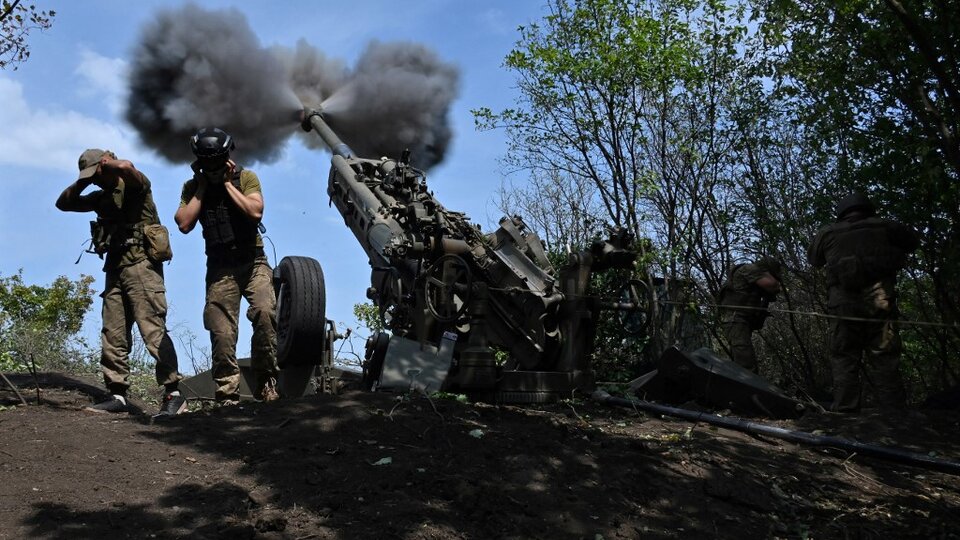 Ukraine was "outraged" by Amnesty International's accusations of endangering civilians
Ukraine's foreign minister said Thursday that he was "outraged" by Amnesty International's (AI) "unjustified" allegations that the Ukrainian military has endangered civilian lives in its war against Russia.
"Like you, I am outraged by Amnesty International's report. I consider it unjustified," Foreign Minister Dmytro Kuleba wrote in a Facebook message.
Stoltenberg says Europe is in the most dangerous position since World War II
NATO's Secretary General, Norwegian Jens Stoltenberg, argued this Thursday that Europe is at its moment of greatest danger since the war in Ukraine since World War II.
"We must not panic or exaggerate, but we must be clear that Europe is in the most dangerous situation since World War II," Stoltenberg said at the start of a labor youth summer camp in Utoya, Norway.
The former Norwegian prime minister believes that a Russian victory would cause greater instability in global security and that Moscow's military intervention would be an attack on the current world order.
"Putin believes in his confused mind that he can decide what Ukraine should do. He has no right to decide what the former Soviet republics should do. If he wants to do to a NATO country what he did to Ukraine, NATO will do everything. Be there now," he said.
Russia is deeply concerned about the ongoing violence in the Nagorno-Karabakh enclave.
Russia on Thursday was "deeply concerned" by rising tensions in Nagorno-Karabakh, a breakaway region of Azerbaijan backed by Armenia, that has killed at least three people, and called for "calm".
"We are deeply concerned about the escalation of tensions… and Moscow is in "close contact" with the governments of both countries, Russian diplomacy said in a statement to "stabilize" the situation on the ground.
8 killed in Russian attack on bus stop in Donetsk
At least eight people were killed in a Russian bombardment of a bus stop in the Ukrainian city of Toretsk in Kyiv-controlled Donetsk region (eastern Ukraine), regional officials said today.
Four people, including three children, were injured in the attack, according to regional authority information gathered by Ukrainian news website Ukrinform, citing Pavlo Kyrilenko, head of the regional military administration.
According to the source, the attack took place around 11:00 local time, and among the injured was a priest from a nearby church, which was damaged along with other nearby residential buildings.
The Donetsk regional authority earlier reported eight attacks in the towns of Bakhmut, Marinka and Shevchenko, in which three civilians were killed and five wounded.
Erdogan will press Putin in person about his willingness to mediate in Ukraine
The war in Ukraine and Turkey's position in Syria will be two of the main topics on the agenda for Turkish President Recep Tayyip Erdogan and his Russian counterpart Vladimir Putin at their meeting tomorrow on the coast of the Russian city of Sochi. Black Sea.
Turkish public broadcaster TRT says Erdogan will show his willingness to continue acting as a mediator to reach a lasting ceasefire in Ukraine at the meeting.
His latest mediation effort led to the signing of an agreement on July 22 to export grain from three Ukrainian ports, coordinated from Istanbul with the participation of Russian, Ukrainian, Turkish and United Nations representatives.
The first ship to sail under the agreement, the cargo ship Razoni, loaded with corn bound for Lebanon, passed through the Bosphorus after inspection by the Joint Commission in Istanbul.
United Nations Secretary-General launches investigation into Ukraine prison explosions
UN Secretary-General Antonio Guterres said on Tuesday that he would launch an investigation into the explosions at Olenivka prison in the pro-Russian separatist region of Donetsk at the request of Moscow and Kiev. Ukraine.
"After receiving requests from Russia, I have decided (…) to start investigative work UkraineGuterres explained to journalists and recalled that he does not have the authority to direct "criminal investigations".
"The terms of reference for this work are being prepared," he said with a view to reaching an agreement Russia and Ukraine.
Amnesty International says Ukrainian war tactics endanger civilians
Amnesty International (AI) pointed out on Thursday that Ukrainian forces are endangering civilians by establishing military bases in residential areas and launching attacks from civilian areas.
In a statement released today, AI says these violations in no way justify Russia's indiscriminate attacks, which have killed countless civilians.
"Ukrainian forces have put civilians at risk by setting up bases and mobile weapons systems in civilian areas, including schools and hospitals, to repel the Russian invasion that began in February," it said.
The note asserts that these tactics violate international humanitarian law and endanger civilians because they turn civilian objects into military targets.
The US Senate has approved the accession of Sweden and Finland to NATO
The US Senate approved the accession protocols for Finland and Sweden to NATO on Wednesday, after the two countries decided to renounce their neutrality after the Russian invasion. Ukraine.
The resolution, sponsored by Joe Biden's administration, was approved by a majority of 95 votes in favor and one against. A vote of at least two-thirds of senators was required to ratify the text.
"This historic vote is an important signal of America's longstanding and clear commitment to NATO and its desire to ensure our alliance is ready to meet the challenges of today and tomorrow," said US President Joe Biden. .
The United States became the 23rd of the 30 NATO countries to formally approve the joining of the two Nordic countries to the transatlantic defense alliance, followed by Italy on Wednesday and France on Tuesday.
Ukraine reports attacks in Zaporozhye and three civilians killed in Donetsk
Ukrainian authorities announced today that three civilians were killed in Donetsk, in the east, and several airstrikes on the outskirts of the city of Zaporizhia in the center of the country, where a nuclear power plant is located, occupied by Russian troops. .
According to sources from the mayor's office collected by the Ukrinform portal, two missiles hit apartments and other civilian targets in the city.
Europe's largest nuclear power plant in the Zaporizhia region has been under the control of Russian troops since March, a situation the International Atomic Energy Agency (IAEA) has repeatedly warned of, and whose experts have no access to the site.
Russia asserts that its forces have advanced in Soledar, Bagmut, and Avdiivka
The Russian Defense Ministry said on Thursday that Russian forces had made progress in the Ukrainian towns of Soledar, Pakmut and Avdivka in the Donbass, where three Ukrainian divisions had withdrawn.
According to military spokesman Igor Konashenko, the Ukrainian army was forced to abandon their positions after "loss of combat capability due to heavy losses" in their ranks.
According to Konashenko, in the last day the Russian army attacked two Ukrainian command posts, one in the Donetsk region and the other in Zaporizhia.
As a result of the attacks, more than 500 enemy soldiers were killed, he said.
Konashenkov also announced the destruction of two weapons depots in Zaporizhia and a fuel depot in the same region.
Gazprom says sanctions prevent return to Russia of strategic gas pipeline for Europe
Russian group Gazprom argued on Wednesday that returning the Nord Stream 1 gas pipeline turbine to Europe to Russia was "impossible" because of sanctions imposed against Moscow for the invasion. Ukraine.
"The inconsistencies of the current situation with the applicable sanctions in Canada, the European Union and the United Kingdom and Siemens' contractual obligations make such a delivery impossible," Gazprom said in a statement. Turbine.
European countries believe Moscow is looking for an excuse to delay the turbine's return and further cut its gas supplies. Ukraine.
Russia calls for Norwegian embassy to leave accused of "Russophobia"
The Russian government on Thursday asked the Norwegian ambassador to leave the country after he was accused of "Russophobia" for saying he hates Russians, according to a video that went viral on social media.
"After what happened, it is impossible for Elizabeth Ellingson to remain on Russian territory," Russian embassy spokeswoman Maria Zaharova said in a statement, noting that the Norwegian ambassador had been summoned to the Foreign Ministry on Thursday.
"Introvert. Thinker. Problem solver. Evil beer specialist. Prone to fits of apathy. Social media expert. Award-winning food fanatic."