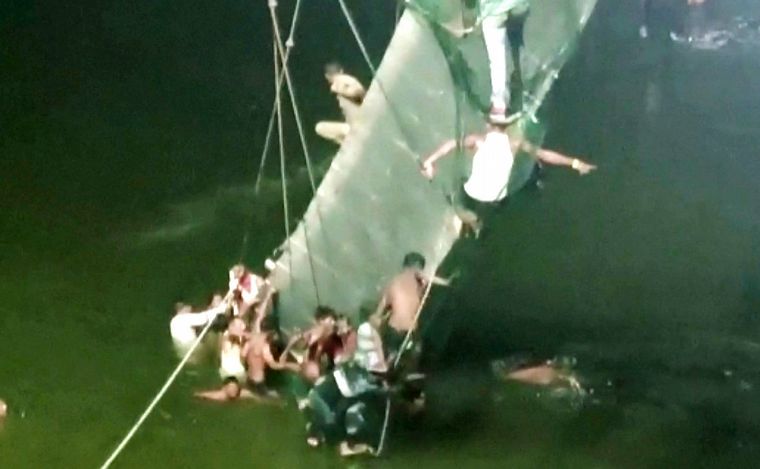 The death toll in India's suspension bridge collapse yesterday has risen to 132, officials said today.
Around 500 people were celebrating the festival on the bridge in the state of Gujarat (west), when the incident took place.
/home embedded code/
???? Over 130 people have died after a suspension bridge collapsed in the Indian state of Gujarat. According to local sources, up to 500 people were on the bridge at the time of the accident. pic.twitter.com/MMKUhrTSQ9

— Understanding War (@descifraguerra) October 31, 2022
/end embed code/
Dozens of people fell into the river as the building collapsed.
Police officer Ashok Kumar Yadav told AFP news agency today that the death toll now stands at 132, with 15 people being treated in hospital.
Other sources indicate that most of the victims were women and children.
The 233-metre suspension bridge, built during the British rule, was opened to the public this week after seven months of renovation work.
/home embedded code//end embed code/
Station NDTV The bridge was said to have reopened on Wednesday despite the lack of a safety certificate, and pictures released on Saturday showed it tottering.
After the wreckage, authorities started a rescue operation with divers to find the missing people.
Hundreds of army and navy personnel are involved in the rescue operation.
Officials planned to stop the water from a nearby control dam and use pumps to empty the river and speed up the search.
"Introvert. Thinker. Problem solver. Evil beer specialist. Prone to fits of apathy. Social media expert. Award-winning food fanatic."