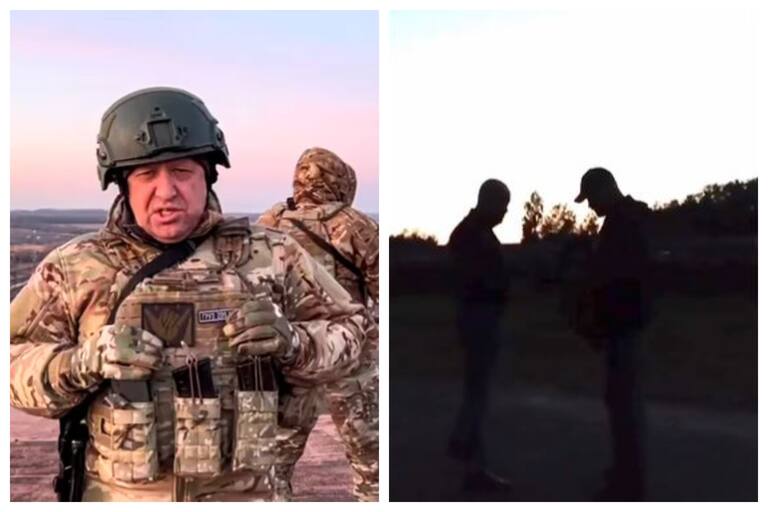 The employer Wagner mercenary group, Evgeny Prigogine, reappeared this Wednesday in a video distributed by his organization's Telegram channels. There, he welcomes his fighters in Belarus, encourages them to prepare to go to Africa, and calls the Russian military command waging war in Ukraine a "disgrace." "What is happening at the forefront today is a shame we should not be a part of.", it says.
According to various international agencies, the post was published by its press service on Telegram The first video evidence of Prigozhin's presence is from the night of the riot. The leader of the Wagner group rose up against the Russian command A failed rebellion Happened since June 23-24 And it was interpreted by the West as a challenge to the President's government Vladimir Putin.
in the beginning, Putin said he will crush the riotsA deal was reached hours later to allow Prigozhin and some of his fighters to go to Belarus, in contrast to the war turmoil that had led to the 1917 revolutions.
Although the international press has not proven that it is Prigogine, the distribution of material clearly suggests it. In the recording, a man with Prigozhin's voice and Russian accent can be heard welcoming his men. These photos were published by his press service on Telegram. "Welcome guys (…) Welcome to Belarusian soil", says Prigozhin."We fought honorably", he reveals.
Mystery has surrounded Prigozhin's fate since he last left the Russian city of Rostov on June 24, after Putin branded him a traitor. It is also unclear what Wagner will do now with 25,000 men according to Prigozhin.
The video that circulated in these hours was recorded when night had already fallen. "They have done a lot for Russia. What happens in front is a misfortune that we don't have to indulge in", says the subject who clearly looks like Prighozhin.
In the recording, he tells his troops that they are spending time in Belarus training their military forces so they can later be deployed to Africa.
"We will return to special military action when we are sure that we will not be forced to embarrass ourselves.", Prigozhin says, using the same rhetoric as the Kremlin's reference to the war in Ukraine.
"We have to wait for the moment to reveal ourselves fully," he says. "That is why it has been decided to spend some time in Belarus. During that time, we will make the Belarusian army the second strongest army in the world. We will train, we will raise our level, we will make a new trip to Africa.
In the recording, the mercenary leader introduces Wagner's field commander, Dmitry UtkinKnown as Field Commander of the organization. Woodkin is rarely photographed and has never been filmed before. "This is not the end, this is the beginning of the greatest work in the world, which will continue very soon," Woodkin says in the video.And welcome to hell" he adds, punctuating the last few words with an English accent.
As mentioned Guardian, there are about 2000 Wagner fighters that went to Belarus. There, according to reports, they began instructing Belarusian regional forces Training camp at AsipovichiSoutheast of the capital Minsk.
Following the uprising, the Kremlin began a process of dismantling Prigozhin's business and media empire, which ran everything from catering contracts to fake news websites. A recent post claims that Putin's entourage sealed the deal for Wagner's boss to be deported.
Apart from their involvement in Ukraine, Wagner's mercenaries have previously been deployed to Syria and various African countries since he created his private army in 2014.
Belarusian Hajun project, An opposition organization that monitors the movements of Wagner Group troops in Belarus says it has 2,000 to 2,500 members in the country. In addition, he noted that almost 400 military vehicles have penetrated into Belarusian territory since July 11.
With information from Reuters, AP and The Guardian
Nation
"Introvert. Thinker. Problem solver. Evil beer specialist. Prone to fits of apathy. Social media expert. Award-winning food fanatic."